Sellers can now run giveaways and auctions at the same time in their livestreams. And when a surge of people enter a show during a giveaway, it's now easier than ever for them to buy something.
Note: Starting the week of November 13, we began gradually rolling out Simultaneous Auctions and Giveaways, and it will take a few weeks for everyone to get the update to ensure the experience is reliable and high-quality.
How to run a giveaway and auction simultaneously:
Open your livestream on your mobile device.
Tap the Store icon at the bottom right-hand side of your screen.
Tap the Giveaway tab.
Tap on a listing, and then tap Start (on iOS) or Start Giveaway (on Android)
While the giveaway is running, tap the Store icon again.
Tap on an item under the Auction tab.
Tap Start.
For auction items, set the Starting Bid amount.
Set the Time (duration) of the auction for that item. 
Tap Start Auction.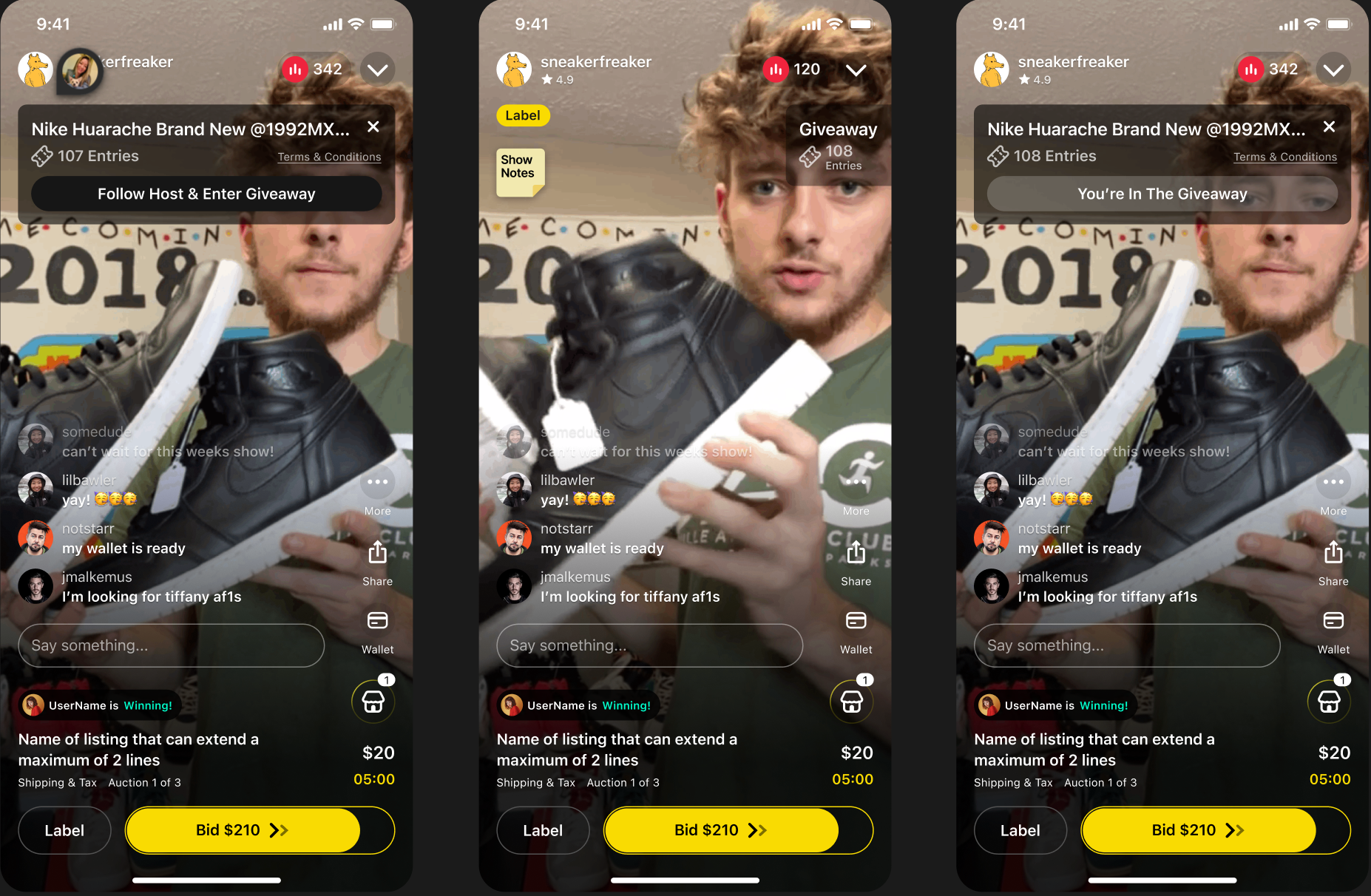 FAQs
Q: How does this feature improve the experience for sellers?
A: This feature allows sellers to maximize their earnings by running giveaways alongside auctions, increasing their earning potential. Sellers are able to cater to various buyer preferences and make the most of their time on the platform. 
Q: How does this feature improve the experience for buyers?
A: Buyers can now enjoy a richer and more interactive shopping experience during live shows. Giveaways coexist seamlessly with auctions, providing more opportunities for buyers to find and purchase items they're interested in.
Q: Can sellers run multiple giveaways simultaneously?
A: No, sellers can run one giveaway at a time. They cannot pin multiple giveaways concurrently.
Q: What happens during giveaways in terms of display and user interaction?
A: During giveaways, the giveaway box will display essential information such as the giveaway title and the "Enter Now" button in a less intrusive way. More giveaway details will be hidden behind an additional click to ensure buyers can easily participate in giveaways without missing out on other auction items.
Q: What happens if a seller runs a giveaway but doesn't have any active auctions running?
A: When no auctions are happening, there will be a "View Store" button that links to the seller's Whatnot profile.
8
0
Was this article helpful?
4 out of 8 found this helpful