Sellers can offer coupons to their buyers that can be used on livestream auctions or Buy it Now store purchases. Sellers will be responsible for covering the cost of applied discounts and will see all claimed coupons on their payment ledger.
Note: Coupons are not available for Marketplace purchases at this time.
Coupon Discount Types and Qualifications
Sellers can set the discount type and choose the coupon qualifications. However, all coupons must follow the Coupon Terms & Conditions and Whatnot Community Guidelines.
At the moment, sellers can only create coupons with a fixed dollar amount off the total purchase. Coupons can also be limited to specific
Types of buyers (e.g., first-time buyers)
Livestreams
Creating and Sharing Coupon Codes
You can only create coupons from the web browser. However, coupons can only be used via the mobile app.
Go to whatnot.com in your web browser.
Click the profile icon in the top right-hand corner.
Select Seller Hub from the dropdown.
Click Coupons from the left menu.

Select Create coupon.

In the Create coupon menu on the right, configure the following:

Coupon Code: The code your viewers will use to apply the coupon. Note: A coupon code can only be between 4 and 15 characters and only contain capital letters and numbers.
Coupon Type: The type of discount the coupon will offer. For now, you can only choose Fixed Amount.
Discount Amount: Enter the coupon discount amount in dollars.
Audience: Choose if you want to make the coupon available to Everyone or New Buyers.


Click Next.
Select the scheduled livestreams to which you'd like to assign the coupon.
Click Create coupon.
To share your coupon code with others:

Select Share Coupon. The coupon code will be copied to your clipboard so you paste it anywhere.

Share the coupon with your community as desired.

Click Done to finish creating your coupon.
Managing Your Coupons in the Seller Hub
All coupons you've created will appear in a table in the Coupons dashboard. From there, you can see the following info for each coupon:
Coupon code
Date the coupon was added
The type of coupon
How many coupons were claimed and applied
If the coupon was deactivated
Editing or Deactivating a Coupon
To edit a coupon, click on the coupon in the table and choose either Edit or Deactivate.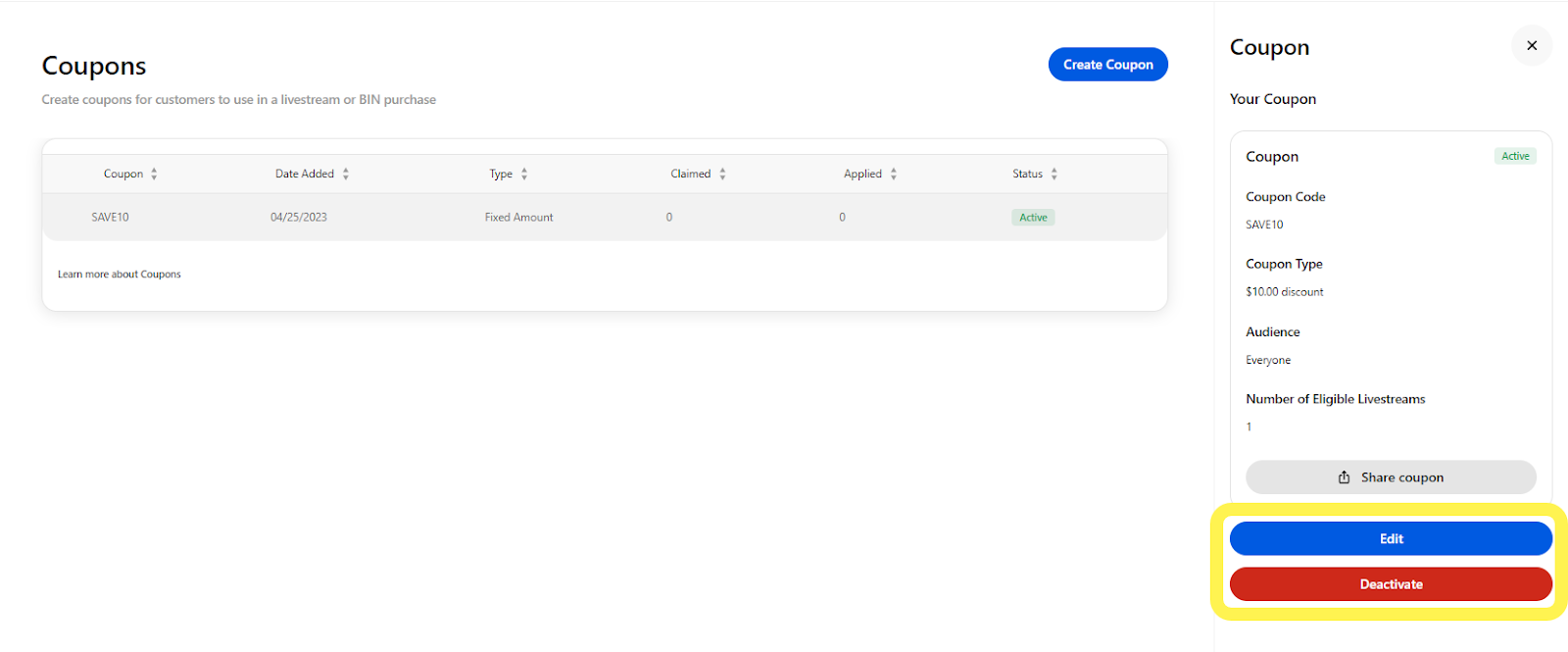 Deactivated coupons will no longer be useable, even if buyers have saved the coupon in their Whatnot Wallet. You cannot reactivate a coupon once it's been deactivated.
1
-1
Was this article helpful?
0 out of 1 found this helpful