*Note: this feature is currently available on Web and iOS only
With Direct Messaging, you have the ability to send messages to other Whatnot users, including sellers!
Remember not to exchange contact info to buy, sell, or pay outside of Whatnot
Exchanging contact info or encouraging other users to buy, sell, or pay outside of Whatnot is not allowed. This affects our ability to prevent fraud, protect Whatnot users, and is a violation of our Community Guidelines.
We will not be able to offer support for any transactions made outside of the Whatnot platform, and participating in or encouraging such transactions may result in a suspension or ban. We regularly monitor messages to protect users and detect fraud and policy violations.
If another user or seller is encouraging you to buy or pay outside of the platform, please report it so that we can investigate. Are you a seller? See our Seller page on Direct Messaging for more info.


How to start a Direct Message on Mobile:

1. Tap the Activity icon at the bottom of your home screen then select the "Messages" tab to initiate a Direct Message or view unread messages. If you aren't able to see Direct Messages in the app, head to the App Store and update to the latest version of Whatnot.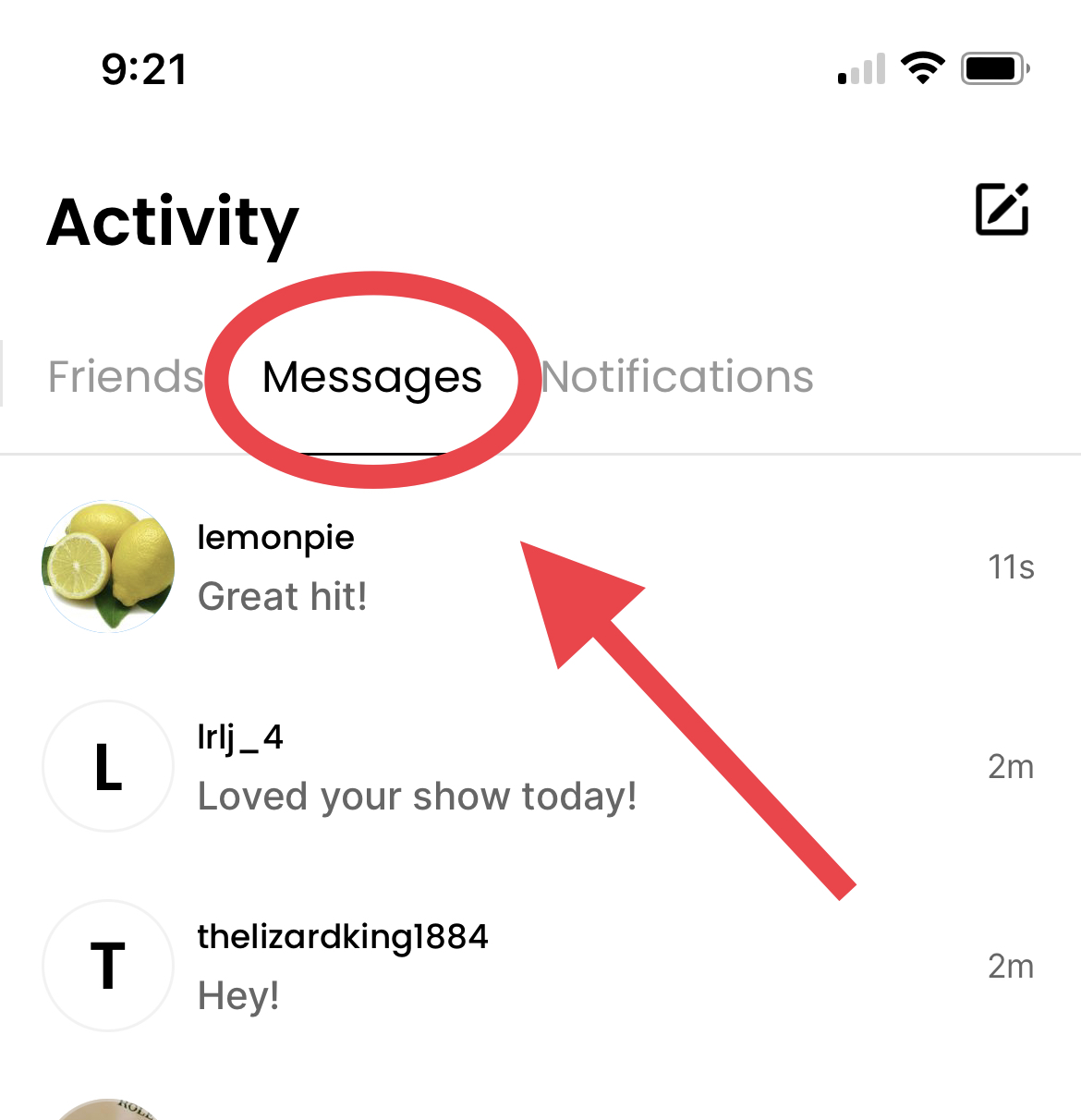 2. Tap the compose button in the top right corner and type out the username of the user you want to message to send them a Direct Message!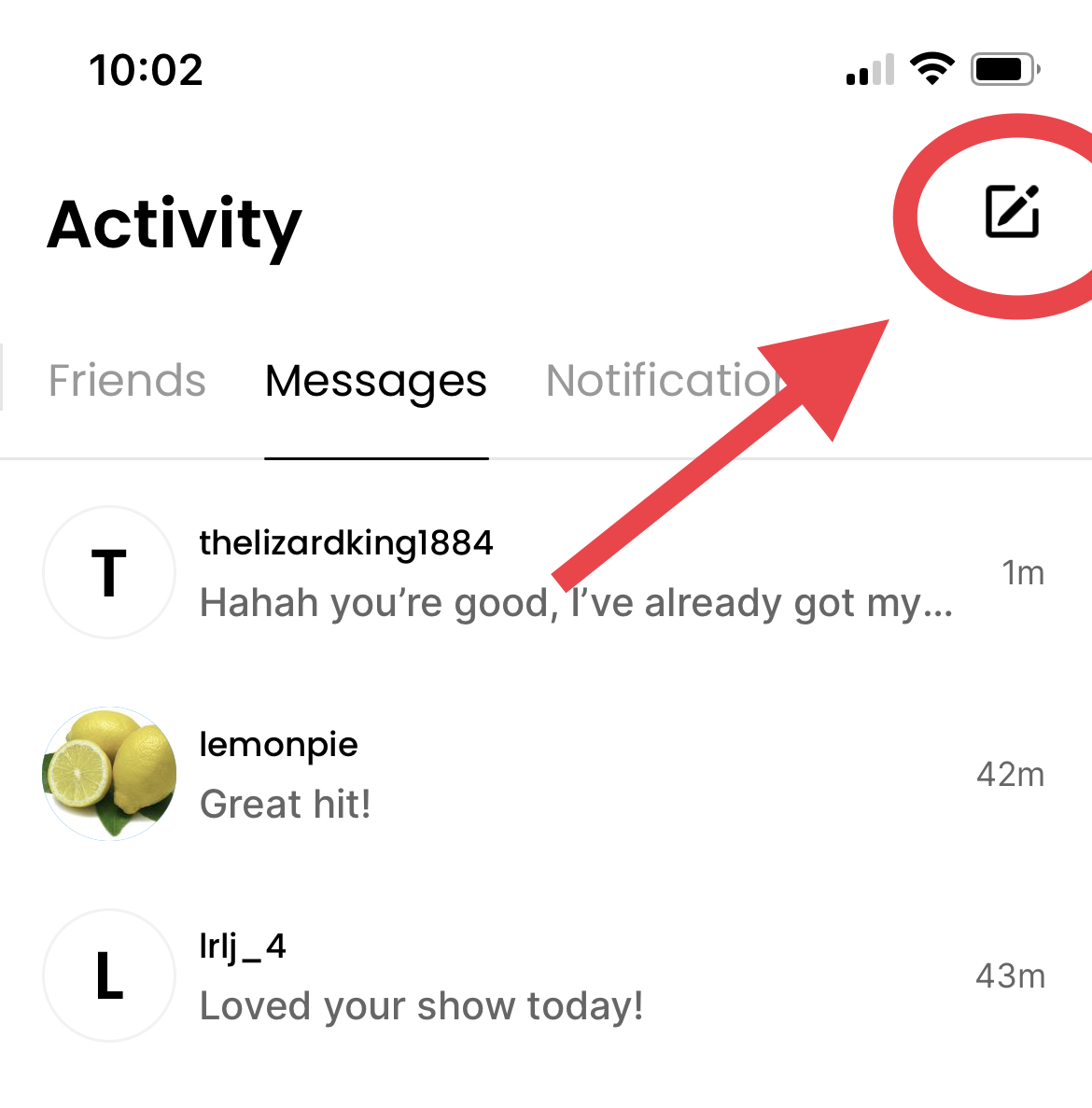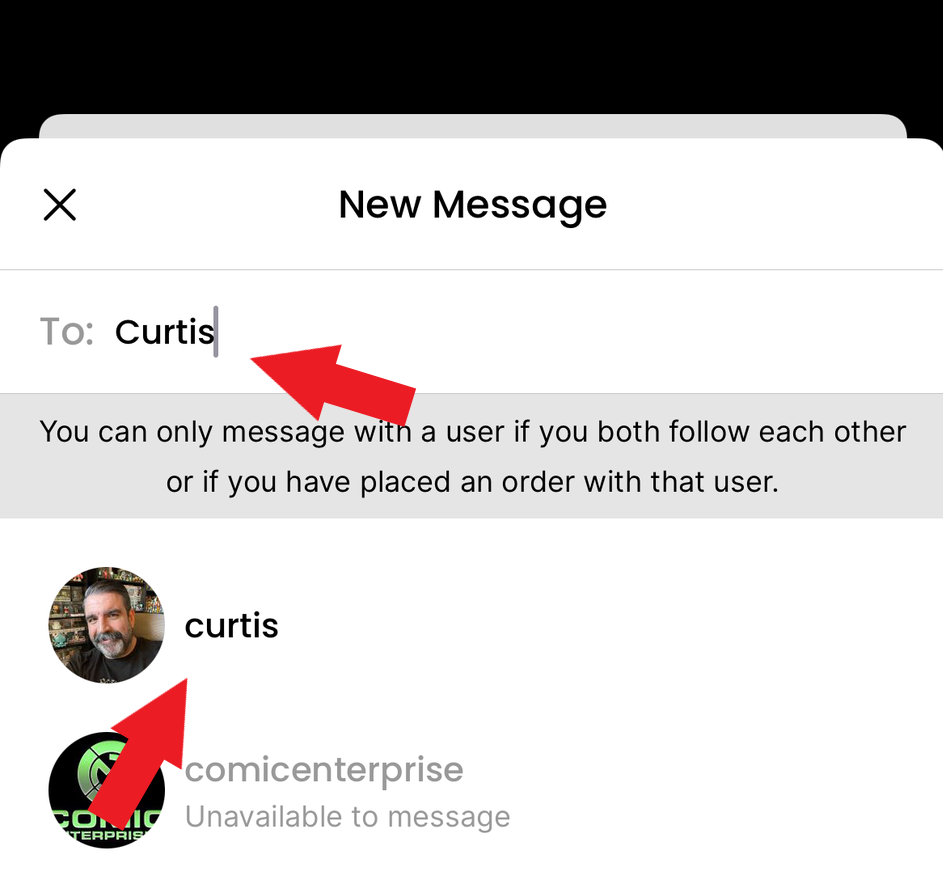 3. You can also initiate a message with a user from your profile by following these steps:
Visit your profile

Tap the Buyer tab

Tap on "Orders"

Tap on an order

Tap on "Start a chat"
How to start a Direct Message on the Web:
1. Visit whatnot.com and sign into your account
2. Click on the "Messages" option to the left of "Lives" at the top of the page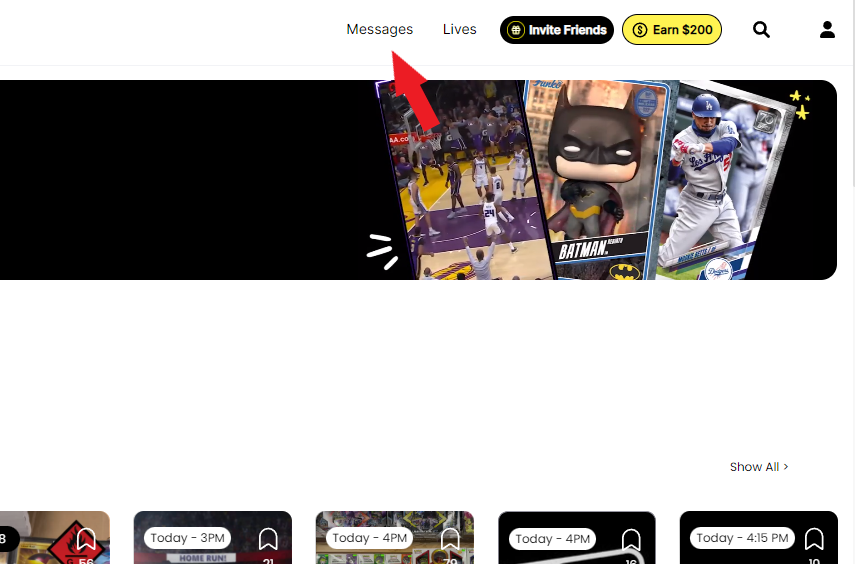 3. Click on "New Message" and type in the username of the user in the "To:" field to send them a Direct Message!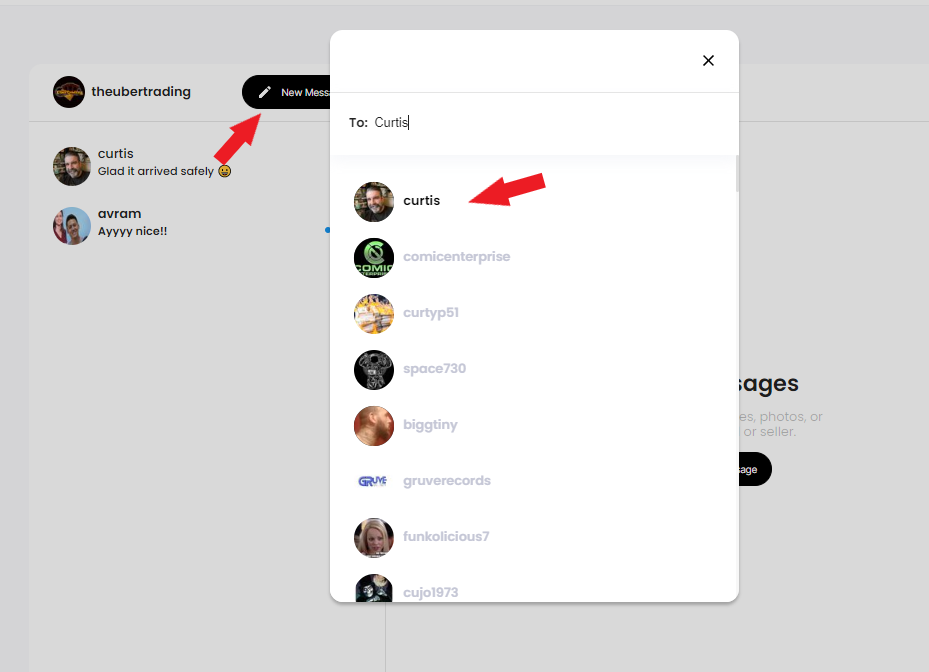 Important things to know:
You can send a Direct Message to any user on Whatnot who is opted into Direct Messaging, and who you have not blocked/been blocked by.

You always have the option to "opt out" of sending and receiving Direct Messages through your Whatnot profile settings by following these steps:
Visit your profile on the Whatnot app or whatnot.com

Navigate to Settings (Sidebar menu in the top right-hand corner of the app)
Scroll down to the "Account" Section and select "Settings"

Toggle off the slider next to Direct Messages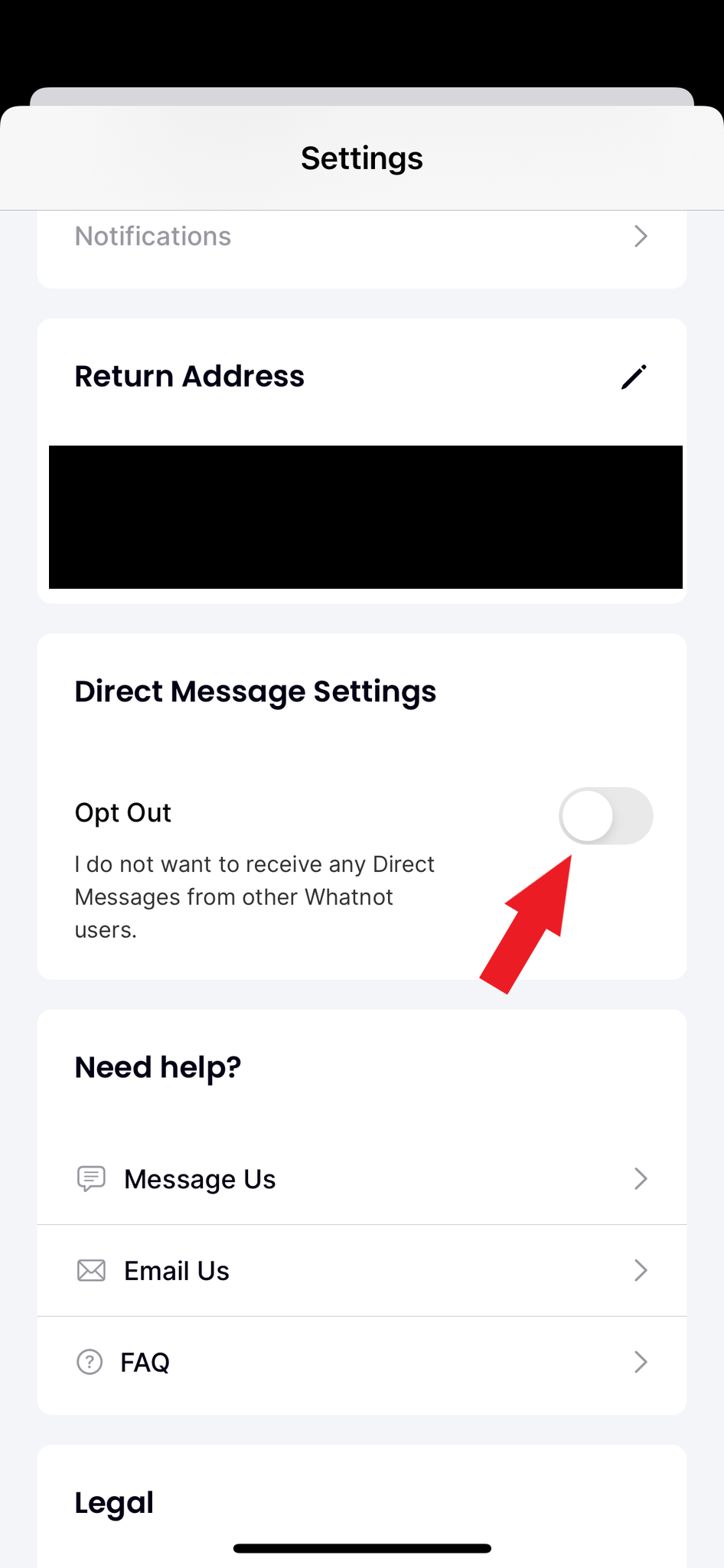 If you feel the need to stop Direct Messages from a specific user, you can block messages from individual users by following these steps:

Tap the Message icon

Tap the Direct Message thread with the user on the left hand side

Tap the 3 dots to the right of the user's username in the top right corner

Select "Block"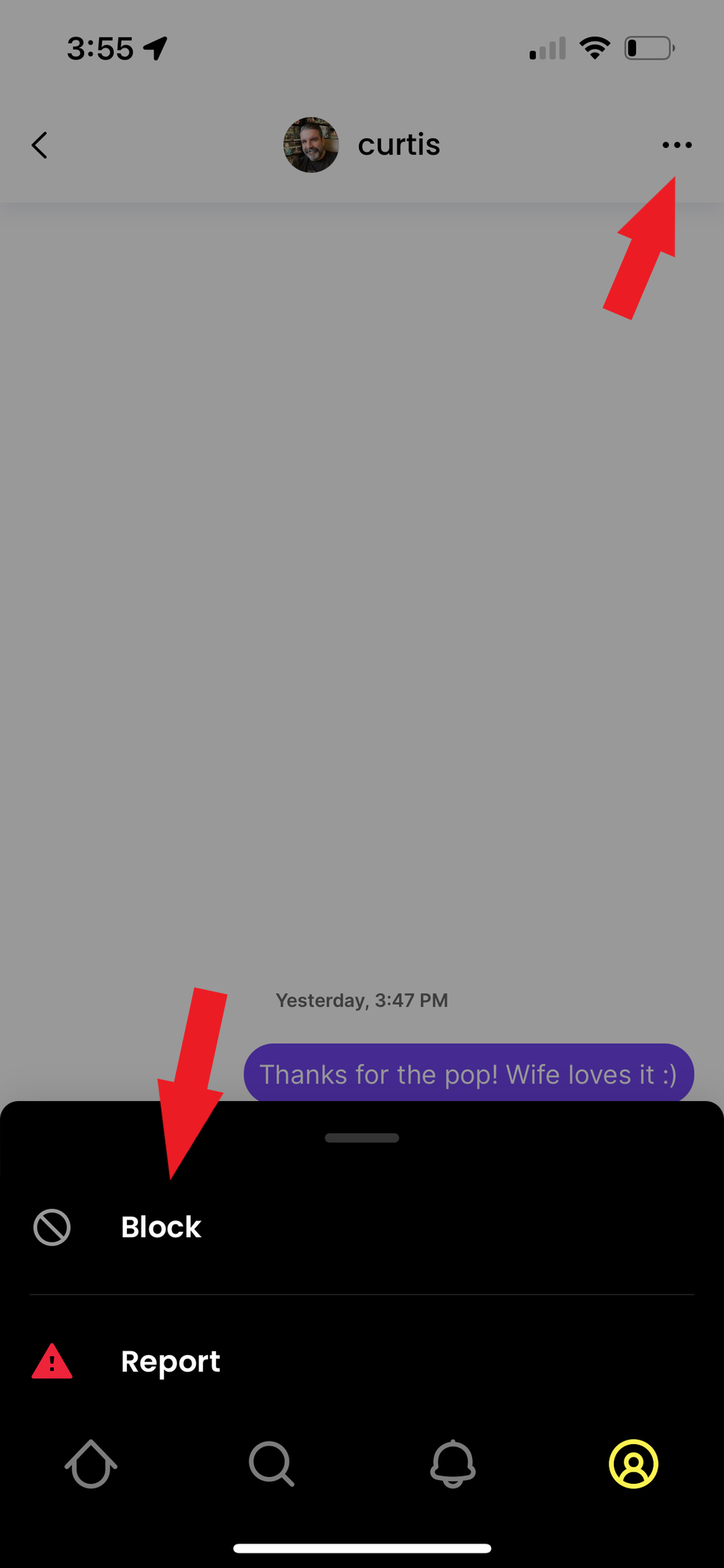 Sellers may not be able to resolve all support-related issues through Direct Messages and may need to direct you to contact our Buyer Support team. Please click here to reach out and we will be happy to help!
Be respectful to other users, and adhere to our Community Guidelines when using the Direct Message feature.
Questions or concerns? Contact us directly through the app!
49
-21
Was this article helpful?
14 out of 49 found this helpful