There are many times that buyers would like to support a seller in more ways than purchasing items from their shop. Users can now support their favorite sellers by leaving them a tip using the Whatnot tipping feature. By using the Tips feature and sending or receiving tips, you acknowledge and agree to the Tips Terms and Conditions.
Sellers always receive 100% of the listed tip amount and Whatnot does not charge sellers the Whatnot Commission Fee on tips transactions.
Note: Tipping is only available:
using the Whatnot mobile app (iOS and Android).
for sellers and buyers in the United States, Canada, United Kingdom and France.
Receiving Tips
Sellers do not have to take any action on their accounts to start receiving tips. Tipping is automatically available for all qualifying Whatnot users.
There are several ways to tip a seller:
In a seller's livestream, either from their shop or profile.
Outside of a seller's livestream, from their profile.
Receiving Tips in a Livestream
If you receive a tip during your livestream, a notification will pop up in your chat and will include who sent the tip, the tip amount, and a thank you note from the tipper (if turned on in your livestream settings).
Configuring Your Livestream Tipping Settings
When you've scheduled your livestream, you can configure the following tipping settings:
Personalize the Send a tip text to help entice users to send a tip.
Allow/disallow the tipper's thank you note from appearing in your chat along with the tip notification.
To configure your tipping settings:
Open your scheduled livestream on your mobile device.
Tap the More icon at far right.

Select Tip Settings.

Under Personalize your tips, personalize the Send a tip text displayed to users (e.g., Tip for a dance!). The message cannot exceed 24 characters.

Note: Personalized tip messages must follow our Community Guidelines.
Toggle on Show buyer tip message in live chat if you want to show the thank you note included with a tip.
Tap Save.
Receiving Tips Outside a Livestream
Users can tip a seller even when they're not live. Sellers will receive an in-app notification when they receive a tip. If the tipper adds a note, that message will route to the seller's DMs.
Sellers can also thank the tipper directly from the in-app notification. Simply go to your notifications, locate the tip notification, and tap Say thanks. The app will open a DM between you and the tipper where you can thank the tipper directly.
Tip Payouts
Tips are paid out instantaneously and your ledger balance will update right away as soon as you receive a tip. You can see all the tips that have been paid out under Transaction History in the Payouts section under Selling.
Viewing a History of Received Tips
To view a full history of all tips you've received in the app:
Open the Whatnot app on your mobile device.
Tap the Profile icon in the bottom menu bar.
Tap the Menu two-lines icon in the top right corner.
Under Selling, tap Tips.
You can also view the tips received per each livestream and from your profile in the Seller Hub: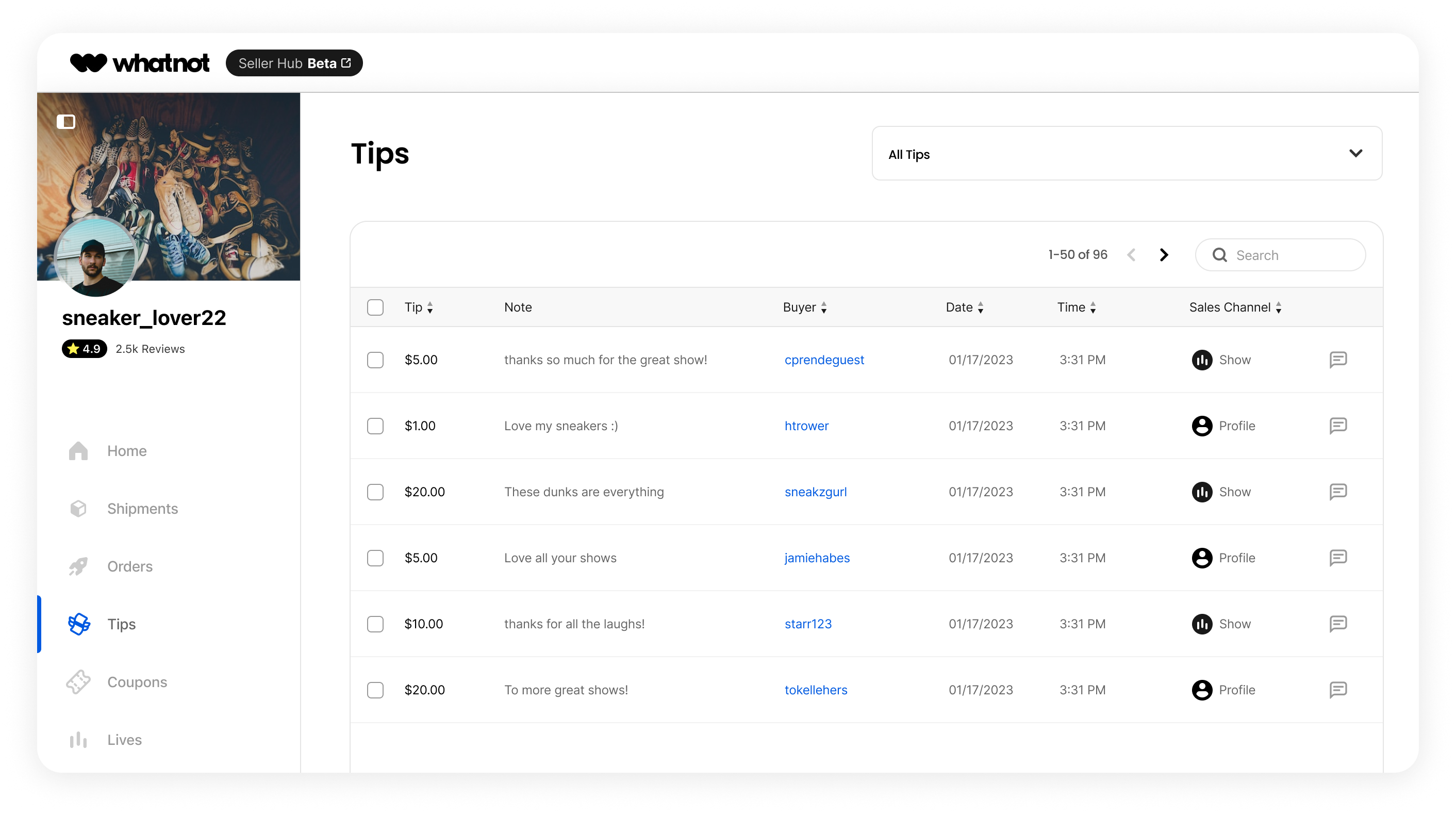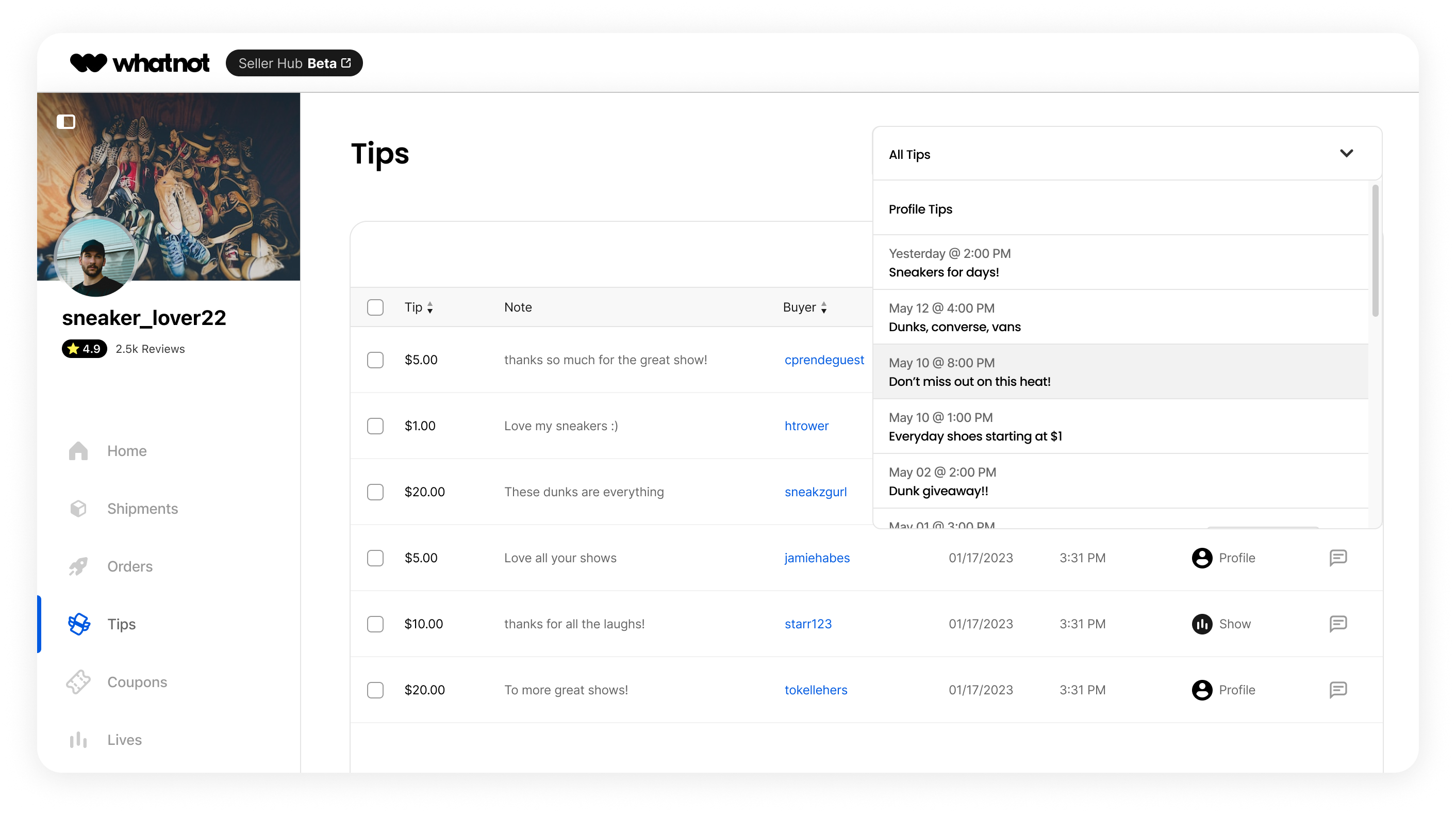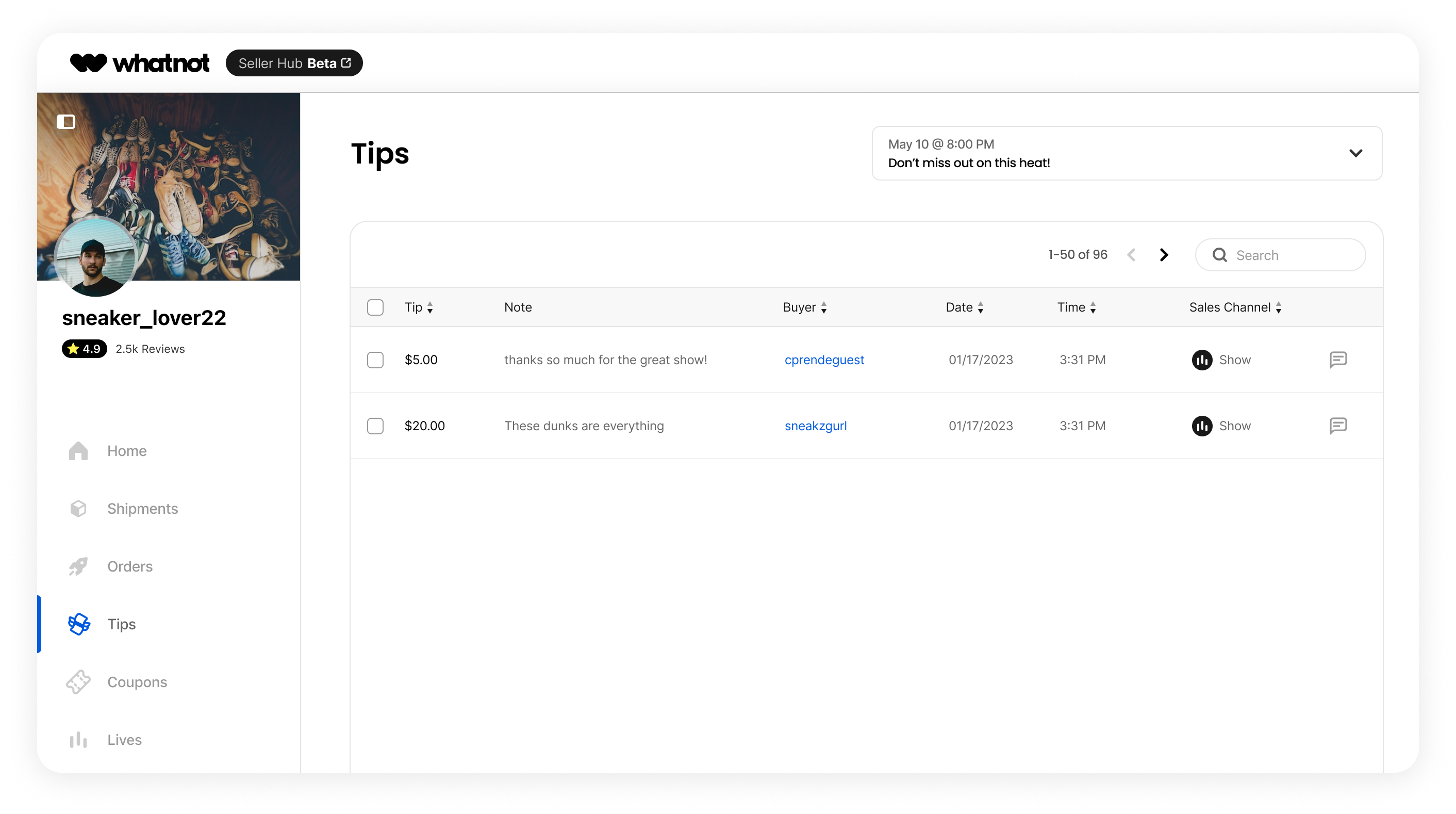 86
42
Was this article helpful?
64 out of 86 found this helpful