Sellers can offer coupons to their buyers that can be used on livestream auctions or Buy it Now store purchases.
Note: Coupons are not available for Marketplace purchases or offers at this time.
Coupon Discount Types and Qualifications
The seller can set the discount type and choose the coupon qualifications. However, all coupons must follow the Coupon Terms & Conditions and Whatnot Community Guidelines. 
At the moment, sellers can only create coupons with a fixed dollar amount off the total purchase. Coupons can also be limited to specific
Types of buyers (e.g., first-time buyers)
Livestreams 

Minimum purchase amount (e.g, $5 discount on orders above $20)
Claiming a Coupon
Note: If you are using a coupon and a referral credit on the same purchase, the coupon amount will apply first and then the credit amount will be applied second to the subtotal of the order. 
You can only claim a coupon from the Whatnot mobile app.  If you are using a coupon, you MUST add it to your wallet before making a purchase in order for it to be applied.
Open the Whatnot app on your mobile device. 
Open a qualifying seller's livestream in the mobile app. 
Tap the Wallet icon at far right. 
Enter the code in the Coupon Code field.
Tap Apply.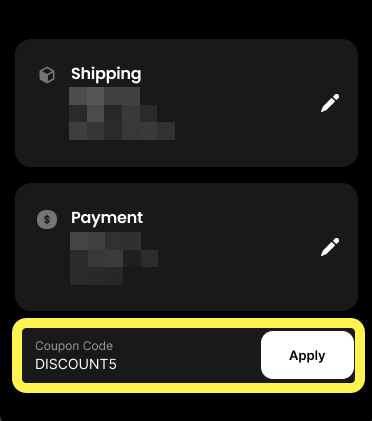 Applied coupons will appear under your Shipping and Payment information.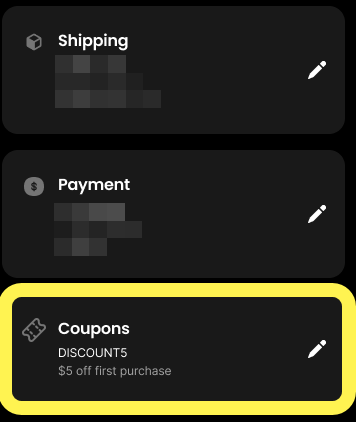 Using Claimed Coupons
Applied coupons will automatically be used on your first qualifying purchase. 
Applicable coupons can be found at checkout (for Buy it Now items) or under the auction item descriptions (for auction bids).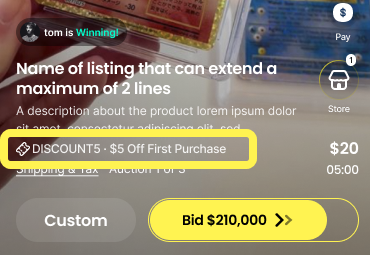 46
0
Was this article helpful?
23 out of 46 found this helpful