This is what you can expect when filling out an application to be a live seller on Whatnot. Based on how you answer certain questions, it may prompt you for additional information. It takes an average of 10-12 minutes to complete the application.
Before you begin, please be sure to have the following items readily available:
Government-issued ID (US, Canadian, or UK based Driver's License, Identity Card, or Passport)
Payment Method
Your social media and/or selling profile links
1-3 photos of the inventory you have on hand to sell
Identity Verification
In order to sell on Whatnot, you must upload your government-issued ID.





Click "Get Started" to upload your ID or "Complete on mobile device" to upload using your phone.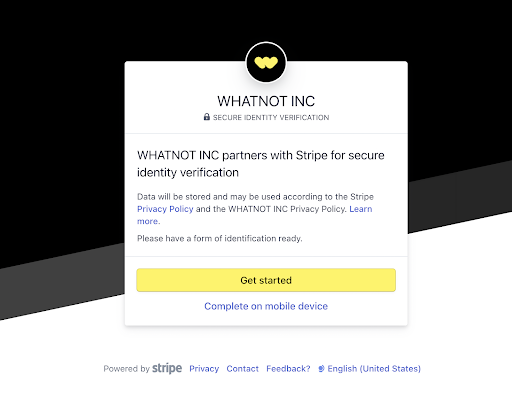 Select how you would like to upload your ID. For best results, we recommend taking a picture with your phone with your ID on a flat surface, dark background, and no flash. If you cannot move forward with the application, this is likely due to the quality of photos.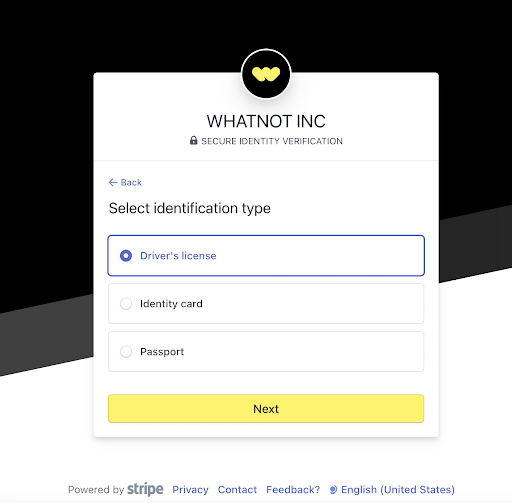 Click "Accept and continue" to move forward with your application.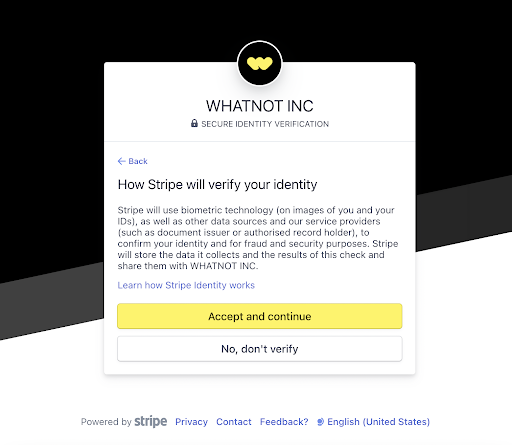 If you selected Driver's License, you will see this screen. Upload a photo of the front of your ID.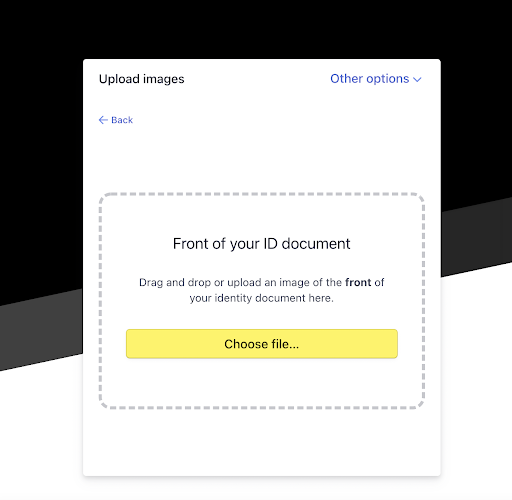 After the front of your ID is uploaded, you will be prompted to upload a photo of the back of your ID.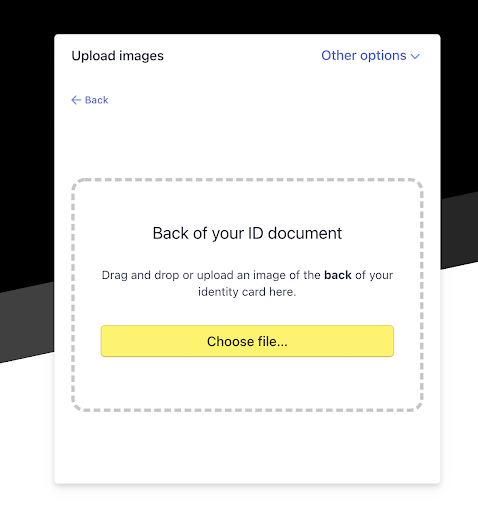 If your verification was submitted successfully, you will see this screen.


Agree To The Rules
Now you have completed the application pre-check. This is the start of the application to sell.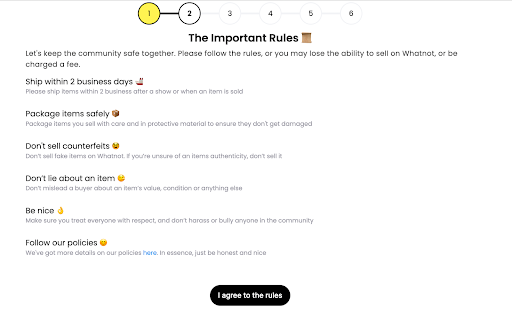 Payment Method
You will need to upload a payment method in order to complete your seller application. If you already have a payment method on file because you are a buyer, you can just click "I accept" with the information already populated in there.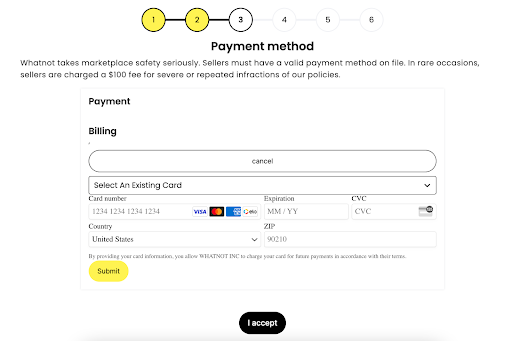 Please enter your full name that matches your government-issued ID for the application. If approved to sell, you can update your name within the Seller Hub, if you would prefer an alias on your shipping labels.

You can also use a PO Box or your business name as long as it's 2 characters or longer.
We cannot accept sellers with an APO address at this time.

Return Address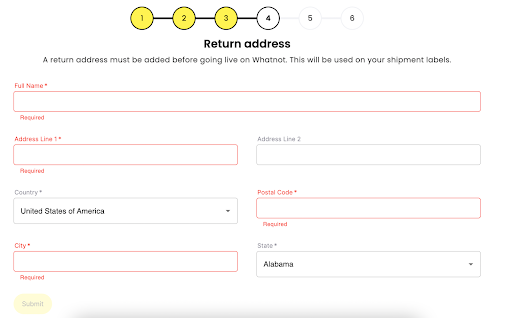 Please select the category you are most interested in selling in. Your inventory photos should reflect products within the category you are selecting.
For example: If you select Toys and Funko, your inventory photos should reflect your Funko inventory. If you select Toys and Funko, but upload photos of Vintage and Thrift, your application may be denied.

Select Categories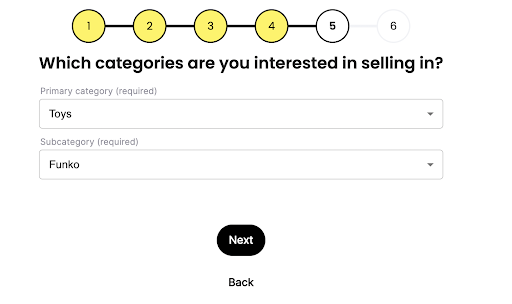 Please accept the Terms of Service and provide your phone number on the screen that follows.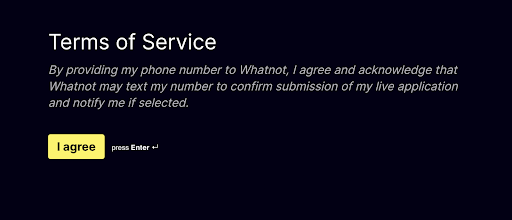 Please use the phone number associated with your Whatnot account.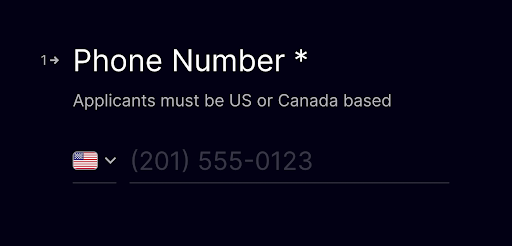 You must be at least 18 years of age to sell on Whatnot.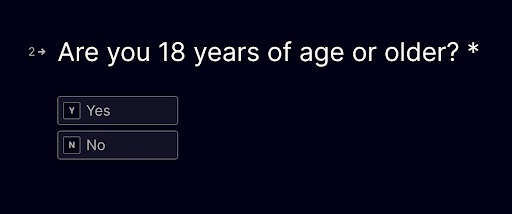 Select your biggest social media account. Ideally, it will have relevance to the category you are applying to sell, but if you do not have any social media accounts dedicated to a category, please select the platform with the largest following.



Provide a direct link to your social media profile. Please ensure that this is typed in correctly. If the team cannot click the link and see your profile, your application could be denied.


If you have ever sold online (or in person) before, please select the platform where you have done the most sales and have the most feedback.



Ensure that the link you provide goes straight to your seller profile. If the team cannot click the link and see your profile, your application could be denied.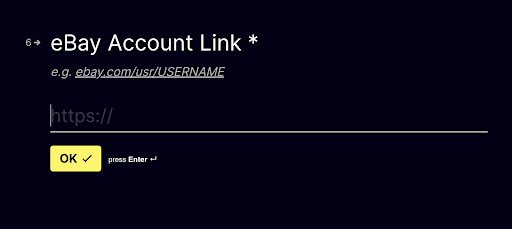 If you are a registered business, please provide your Employer Identification Number. Please note that we will not be able to add this after your application has been submitted.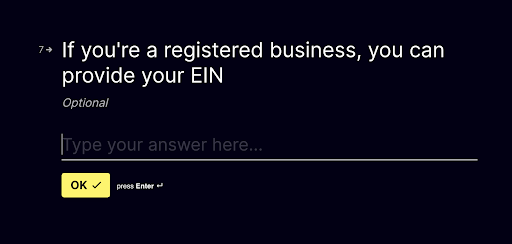 Please select how much you have done in sales in the last 90 days. You may be asked to provide evidence of these sales.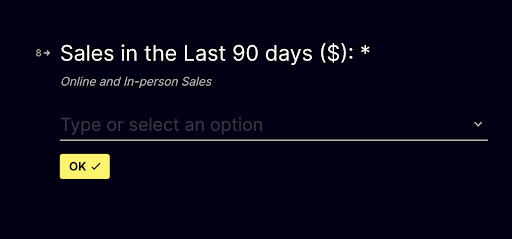 Please provide an estimated value of the inventory you currently have on hand to sell. You may be asked to provide evidence of this value.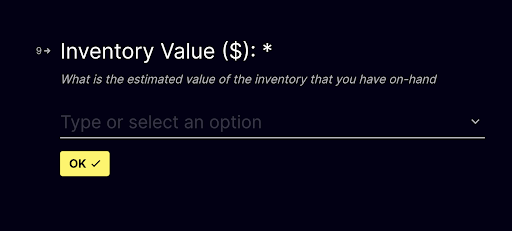 Attach one photo of the inventory you have on hand to sell. Ensure that the photo shows both the quality of the inventory you have as well as the quantity. We are looking for sellers who have enough inventory to go live consistently.
Example of bad inventory photo: Picture of one shirt, a handful of sports cards, boxes where we can't see the contents, etc.
Example of good inventory photo: Wall of Funko pops, racks of clothing, slabs and boxes of cards, etc.
We highly recommend making a collage and uploading that as your one photo if you are unable to get all your items into one picture.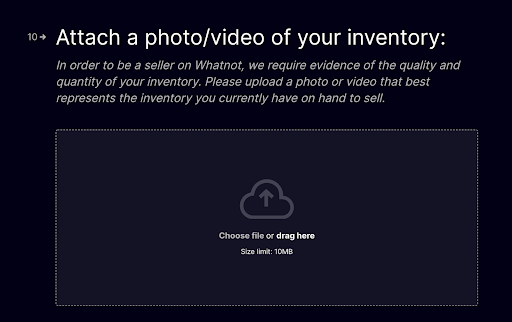 Please include any additional information that you think the team should consider when reviewing your application.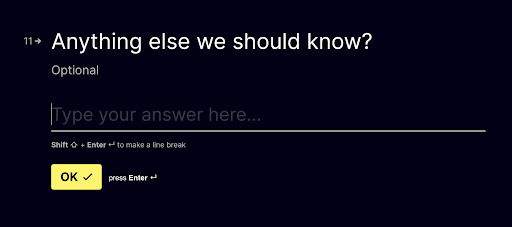 Let us know how you found out about Whatnot!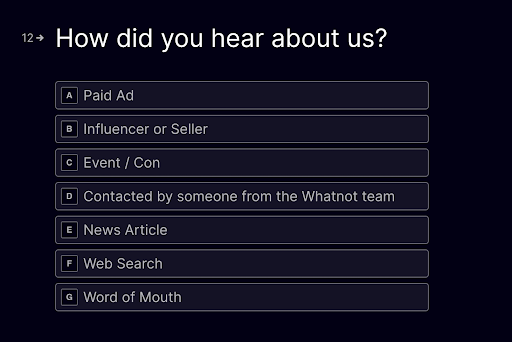 We may do a background check to ensure our community remains a fun and safe space for everyone.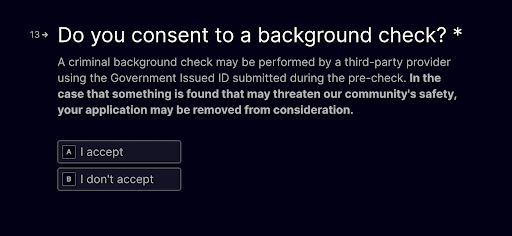 If approved, let us know when you plan to host your first live stream.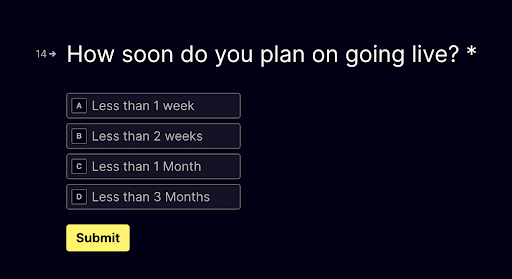 Thank you!
You're done! Please keep an eye on your email as the team should be in touch with an application decision within two weeks.

83
45
Was this article helpful?
64 out of 83 found this helpful