Scammers may use emails, text messages, or in-app DMs to trick you into giving them your personal and financial information. They may be interested in your password, account numbers, or Social Security numbers. It is critical that you recognize phishing attacks and protect your information.
Scammers may pretend to be representatives of Whatnot. Please note
All Whatnot emails come from Whatnot domain @whatnot.com

Examples of a Whatnot-affiliated email address:

[Whatnot employee name]@whatnot.com

Example of a fake email address NOT related to Whatnot:

Whatnot will NEVER ask for your payment details via email (e.g., to repurchase an item, for a transaction failure)
Whatnot will NEVER email you to get a prepaid card or activate an "Instant payout"
If you receive any suspicious communication, do not click on any links or provide your personal and financial information. If you receive a scam email, please report it as spam and disregard it. If you receive suspicious direct messaging within Whatnot, please report the user within the app. If you are unsure or have questions, you should contact support.
Case studies: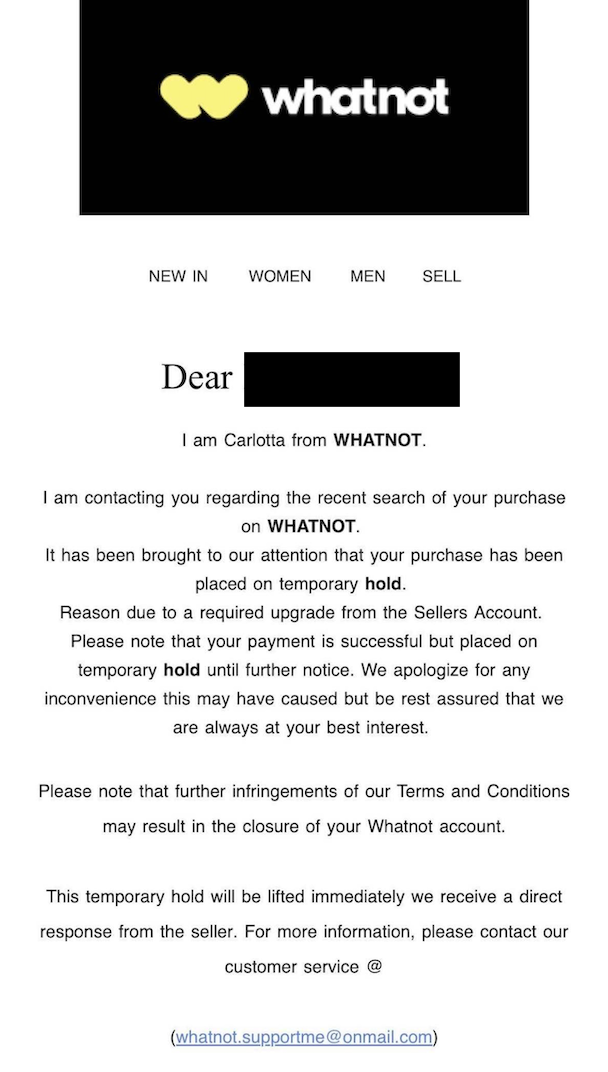 Scammer encouraging you to contact a fake Whatnot email address that is not from @whatnot.com domain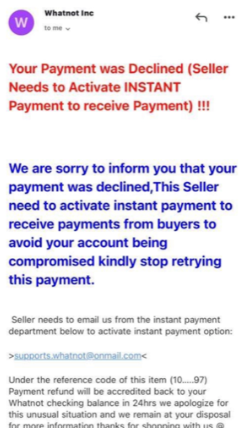 Scammer encouraging you to email them payment details. Whatnot never asks for your payment details over email.
69
63
Was this article helpful?
66 out of 69 found this helpful