How do I properly list my address?
Military addresses can be tricky, especially if listed wrong. If not done correctly it can cause delayed shipment and or cancelations of an amazing order you placed. Below we will discuss all the steps you need to take in order to get your address listed correctly in our systems.
Are there any foreign characters on the address?
Non-English characters may cause the address to not be recognized by our systems. Make sure to replace any non-English character with the closest English equivalent.
Is the sender/recipient name field incorrectly formatted or incomplete?
The sender address must contain a "first and last name". Please make sure that if you are putting your username as the recipient or receiver name it will not allow you to print the label.
On international labels, the name for both the sender and the recipient address must follow a strict format of a "first name" and a "last name" and both must have more than one character. These do not have to be your actual first and last name but can be your business name. For example, instead of just "Whatnot" in the first name field, "Whatnot Inc." could be used to complete both fields.
Is the US military address incorrectly formatted or incomplete?
All the information must be on the right lines and include all necessary details (box/unit numbers, etc) in order to be valid. The USPS provides a guide for how these addresses should look to be accepted in their system, which you can find on their website here
Does the US military address list the wrong country/city/state?
US military addresses must have "United States" as the country, and either APO, FPO, or DPO as the city. The state must be either AP, AE, or AA.
Below is an example of what an APO address should look like.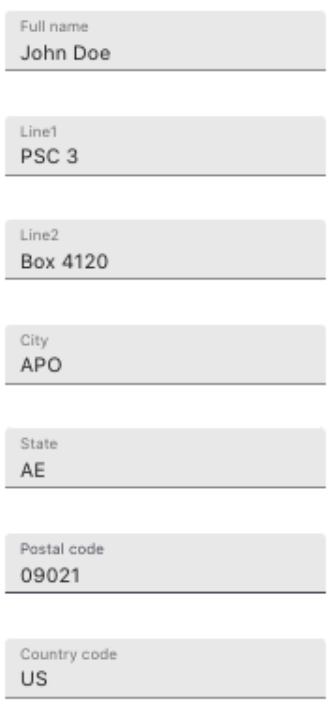 33
-19
Was this article helpful?
7 out of 33 found this helpful